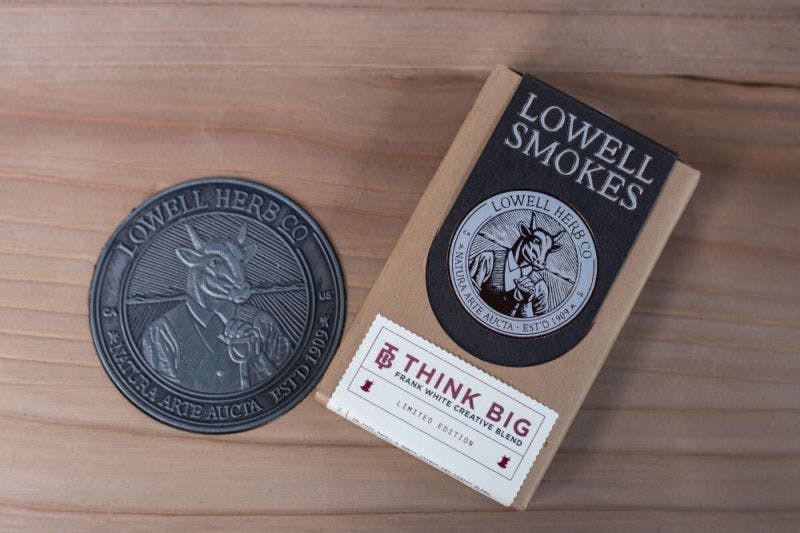 Limited-Edition Pack to benefit The Prison Arts Project
April 9, 2019
The "Frank White Creative Blend" Charity Pack Supports Creativity, Criminal Justice
The Frank White Creative Blend, conceived in collaboration with Think BIG. Founded by CJ Wallace, the son of Christopher "The Notorious B.I.G." Wallace, Think BIG is a company leading a social movement challenging humankind to discover how cannabis can be used as a tool for curiosity, creativity, contemplation, and healing while advocating for criminal justice reform.
The collaboration between Lowell Herb Co. and Think BIG was born of a shared mission for social justice and a fundamental goal to herald in a new era where cannabis is no longer considered contraband, but a catalyst for creativity. Both companies are also passionately driven to remove stigmas that negatively influence public opinion.  

Lowell Herb Co., known for their effect-based blended cannabis pre-rolls, has created The Frank White Creative Blend in collaboration with Think BIG, specifically for creative inspiration. It is available in a 1/8th pack, which includes seven .5 gram pre-rolls of Lowell Farms' signature sun-grown California cannabis, custom blended with Orange Sherbet, Banjo, and Rattlesnake Sour Diesel.
"Lowell Herb Co. is committed to improving peoples' lives and reversing the negative impact that cannabis prohibition has had on our society," said Lowell Herb Co. CEO David Elias. "When Think BIG approached us about collaborating on a program that highlights the positive impact of cannabis on our culture, we were all in."
A portion of proceeds from The Frank White Creative Blend will be donated to the Prison Arts Project. The Prison Arts Project began in 1977, and is dedicated to providing arts instruction to incarcerated individuals in the belief that participation in the artistic process significantly and positively affects their view of themselves and the world around them.

"We've been fans of Lowell for years. We love their top-shelf flower and their use of organic farmers for their products," said CJ Wallace, founder of Think BIG. "Before my dad was killed, he was arrested for cannabis possession, and I see how the pointless war on drugs has affected our communities — this is why criminal justice reform is important to me. My mom and dad both used cannabis for their creativity, as I do."
Think BIG's new brand Frank White creates limited-edition cannabis products, apparel, and accessories designed to inspire creativity. The name is taken from the eponymous character in the 1990 film King of New York, one of the many aliases that Christopher "The Notorious B.I.G." Wallace used to express himself. By supporting artistic creativity and criminal justice reform, Frank White's mission is to show society that cannabis isn't contraband; it's a catalyst for creativity.
"We believe it's time for the world to honor and embrace cannabis' influence as the ultimate ghostwriter in music, literature, visual arts, science. From Louis Armstrong, Jack Kerouac, Carl Sagan, Johnny Cash, John Lennon, Quincy Jones, Rolling Stones, to Biggie…if you enjoy their work, then you must honor cannabis' contribution as a creative tool. It's time to come out of the cannabis closet and discuss how this plant has shaped our culture in positive ways," says Willie Mack, co-founder and president of Think BIG.
The limited-edition Frank White Creative Blend pack is available today in Northern California at Urban Pharm and Southern California at Rose Collective and Sweet Leaf for $40. For more information on Lowell Herb Co., please visit www.lowellsmokes.com. To learn how you can support Think BIG, please visit www.comethinkbig.com