Cover Photo Courtesy of VidaKush
I have followed cannabis inspired jewelry brand VidaKush on social media for quite some time. VidaKush was the first brand, in my opinion, to capture the "stoner girl" vibe in a cute and trendy, yet not overly sexualized way. In a world filled with misconceptions about women who consume cannabis, VidaKush just gets it. Needless to say after years of admiration, I was really excited to visit their dazzling and eclectic showroom for a very special sit-down with the boss herself, CEO & Founder Rhianna Cooper.
LG: What was your introduction to cannabis?
RC: This is actually a funny story. Growing up in LA, I never smoked weed when I was younger because I was scared of my mom. My mom has never smoked or drank in her life. It's not that she's strict, she's definitely a cool mom, but I feared her so I was good. When I was 17 I had my first job at the Culver City Plunge as a lifeguard, and one day after work my boss asked me if I wanted to go to the chlorine room to smoke a joint. I didn't even know how to smoke it but he ripped that bandaid off real quick. After that, I started smoking with my friends. 
LG: Your mother is also a jewelry designer; how old were you when you first began making jewelry?
RC: My mother started her company "Rafia" 20 years ago and for the first 10 years she ran everything out of our house so I literally grew up with it. I remember her first big order was with Anthropologie while I was on summer vacation. She offered me a $1 for every bracelet I helped make. I was 10 years old. 
LG: Did you pursue an education in design after high school?
RC: I've always been creative but was more business focused back then so I actually went to school for International Business. It wasn't until after graduation that I decided to go the design route. It was really nice to get to work with my hands, especially after business school. The design process is my favorite part of VidaKush.
LG: In addition to jewelry design, you're also an incredible stylist. What inspires you?
RC: Thank you! I'm motivated by creating and combining things I haven't seen before. LA is full of different landscapes, so many different types of people and just contrast in general. Pairing elements together in an unexpected way is what drives me. Being mixed myself, I feel like there's always gotta be a balance; even in the way I dress and express myself. My Indian culture definitely inspires me, as well.
LG: What's your background and how was it growing up?
RC: I'm half white and half Indian. I have great parents and was able to experience two totally different worlds, including the world they create together. But it was definitely a little confusing. Growing up 'mixed' there's a feeling that you don't belong. Now most of my closest girlfriends are [of mixed race] and we can all relate to one another.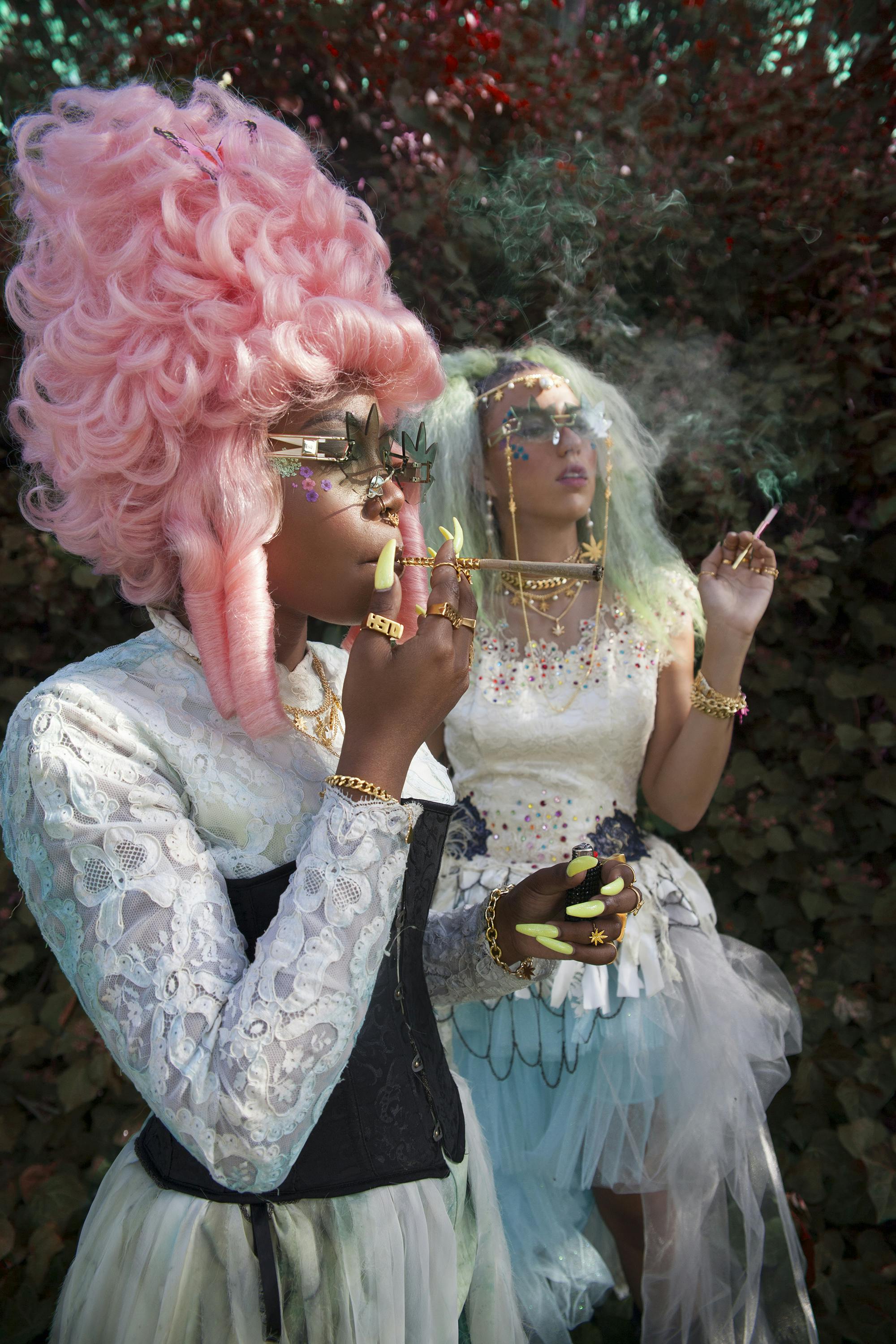 VidaKush X Lowell - Photo Courtesy of VidaKush
LG: When did you decide to make cannabis inspired jewelry and was there any backlash from your family?
RC: I think it was 6 months into creating the company. The first name I had come up with was 'VidaGold', vida meaning 'life' in Spanish. But my boyfriend at the time recommended I change it to VidaKush, because 'kush' is what Ancient Egyptian's called their golden era. I loved it but was worried about what my parents would say… They just laughed when I told them. Even my grandmother who was present for that conversation loved the name. 
LG: Did your family know about your relationship with cannabis at that point?
RC: They did. My sister and I had gotten into trouble for smoking by then. Once I was an adult, we were able to put it all on the table and everything was fine.
LG: Tell me about your father's involvement with cannabis legislation in Culver City?
RC: My dad Jeff Cooper was the mayor of Culver City when cannabis became legal. He's actually served 8 years as city council and 2 years as mayor. He was the head of the cannabis task force in Culver City. This area was very sought after because there were only three licenses available for dispensaries. They finally awarded them and he was a huge part in helping decide who'd get them. I learned a lot about cannabis legislation while my dad was mayor last year. 
LG: You use a lot of cannabis symbolism in your designs. Which one is your best-seller?
RC: Our 'Mary Jane Knuckle Ring' was the first one we put out in 2012 and it's still our best seller today.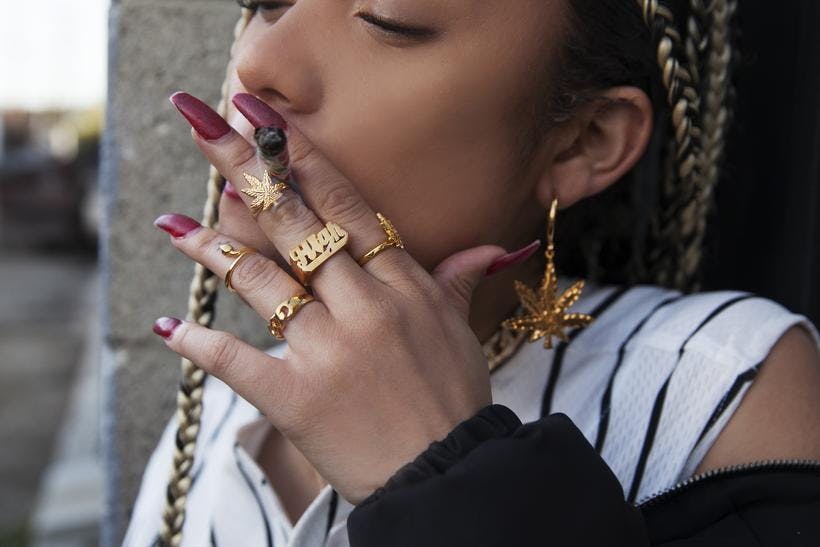 Photo Courtesy of VidaKush
LG: How important is it that everything be made in Los Angeles?
RC: It's very important to me to provide jobs within the area that can help others sustain their living. Certain things you just can't make in Los Angeles but I love the opportunity to create a working environment that allows manufacturing to happen in LA. I like having control over it, too. The fashion industry is so wasteful and it's something I don't want to be a part of at all. We encourage people to bring us their jewelry when it tarnishes or breaks for us to repair and revamp, even if it's not VidaKush. We don't make clothes not because we don't want to make clothes, we don't make clothes because the world literally doesn't need more clothes. 
LG: Why do you consume cannabis?
RC: I consume cannabis to either relax after work or to get creative. I don't consume when I work but most of the best ideas I come up with happen when I'm high. I love the energy between my girlfriends and I when we're high; not judging each other, really giggly, and coming up with new ideas. The best is then executing those ideas when we're not high. People will ask me 'how'd you come up with that?' and it's literally because I was high. 
LG: Do you consider yourself a 'Stoner'?
RC: One of the reasons I wanted to make cannabis inspired jewelry was because I didn't like the typical view of a stoner. I wanted to see it as something chic, so I created VidaKush.
LG: You have a huge social media presence; how important has this online-platform been for the growth of VidaKush? What does it mean to you now?
RC: The first person who really showed me how to use Instagram and gain a following was Jenah Yamamoto (@gypsyone) who's a super famous swimsuit model/boss babe now. We met at the Melrose Trading Post back in 2011 and bonded over smoking a blunt. We talked, became friends and she even photographed some of our very first VidaKush shoots. Instagram has been very important from the start in terms of having an online store, especially then when nobody had an online store. It allowed us to move forward with a loyal customer base. But I think I always viewed it as a platform for fun. I like fashion to be a relief from heavier things, and I don't necessarily want to hear opinions on social justice or similar issues from a fashion company. I'd rather hear it from a more reputable source. However this year it started to weigh on me more, maybe it's because I'm getting older. People have been reaching out more, asking for advice, expressing how they look up to us. I recognized our need to have a position on some of these messages for our followers. It opened a doorway to at least make a safe space where people can talk about what's going on in the world. We have these conversations here at our office, too. Someone might come in and say 'I'm kinda confused about this' and we're able to talk it out. Maybe somebody slips up and says something that's not cool but it's ok because we're all under 30 and still learning. We're still formulating our own opinions.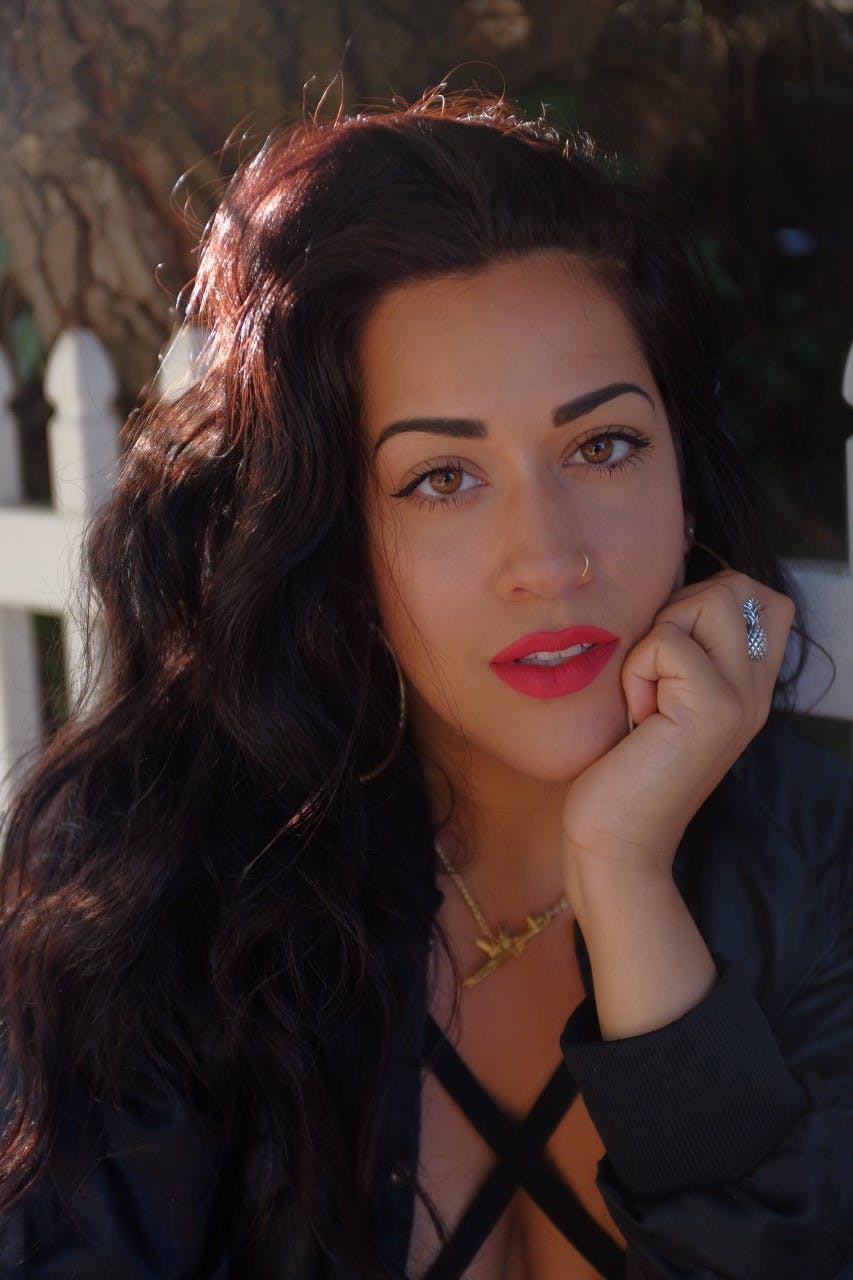 Photo Courtesy of VidaKush
LG: Tell me a bit about VidaKush Confessionals.
RC: VidaKush Confessionals is a series we started on Instagram where we have these types of conversations. It started with the question 'When was the first time you felt represented in the media?'. We started filming and passing the phone around the table, kinda like 'That 70's Show' style, and that went really well. People started writing to us about it which led to great conversations and us connecting on a different level with our followers. We're letting it happen naturally. 
LG: I remember watching that particular Instagram live story about representation in media and thinking as a thicker girl growing up, I can really relate to what they're saying. 
RC: Exactly! I don't want to endorse the Kardashians but I can't help that it was my first time seeing that [body type] on television. It was like 'Oh, I can be a Kim and not a Paris? Thank God'. 
LG: Have you experienced any backlash from being more vulnerable online?
RC: Not really. The only time we did was when we talked about the abortion bans happening in the South. I felt sick to my stomach about what was going on and literally couldn't continue working until we did something about it. Which is actually what inspired us to talk publicly in the first place. Whenever there is a negative comment, we just delete it, we don't engage in the negativity. It's not really about a back and forth argument or changing anyone's mind. It's about freely expressing our opinion without attacking anybody else. 
LG: We live in California where cannabis is recreationally legal; where would you like to see the future of cannabis go?
RC: I'm honestly most excited about cannabis consumption spaces. I'm really not a drinker but I end up drinking because I feel like I have nothing else to do when I'm at a bar or out with friends. I can't wait to see people evolve and what comes out of spaces for cannabis consumption. I want to see a whole culture of smoking lounges versus nightclubs and bars. I want to consume in a place that's chic and fun, and not my car or my house. I'm also excited to see the future of cannabis and mental health. 
LG: So you're stoked for Lowell Cafe?
RC: I'm super stoked! I also just love Lowell. The packaging design is so detailed and well thought out. I like how it looks vintage. I usually roll my own joints but I'll buy a pack of your smokes just to have because it looks sophisticated. 
LG: Where can our readers find your products?
RC: In terms of directly buying they can find us on our website and the Melrose Trading Post every Sunday. We also take appointments at our showroom in Culver City M-F from 10am-4pm. Our second biggest market is in Japan, which is really cool. Our stickers and masks are in Zumiez. 
LG: Favorite smoke session thus far?
RC: Oh my gosh, I don't know there's so many! I honestly love smoking with my best friend. Anytime we're together we find a way to smoke and we literally don't stop laughing the entire time.
Follow Bianca Blanche on Instagram @thestonedjournalist