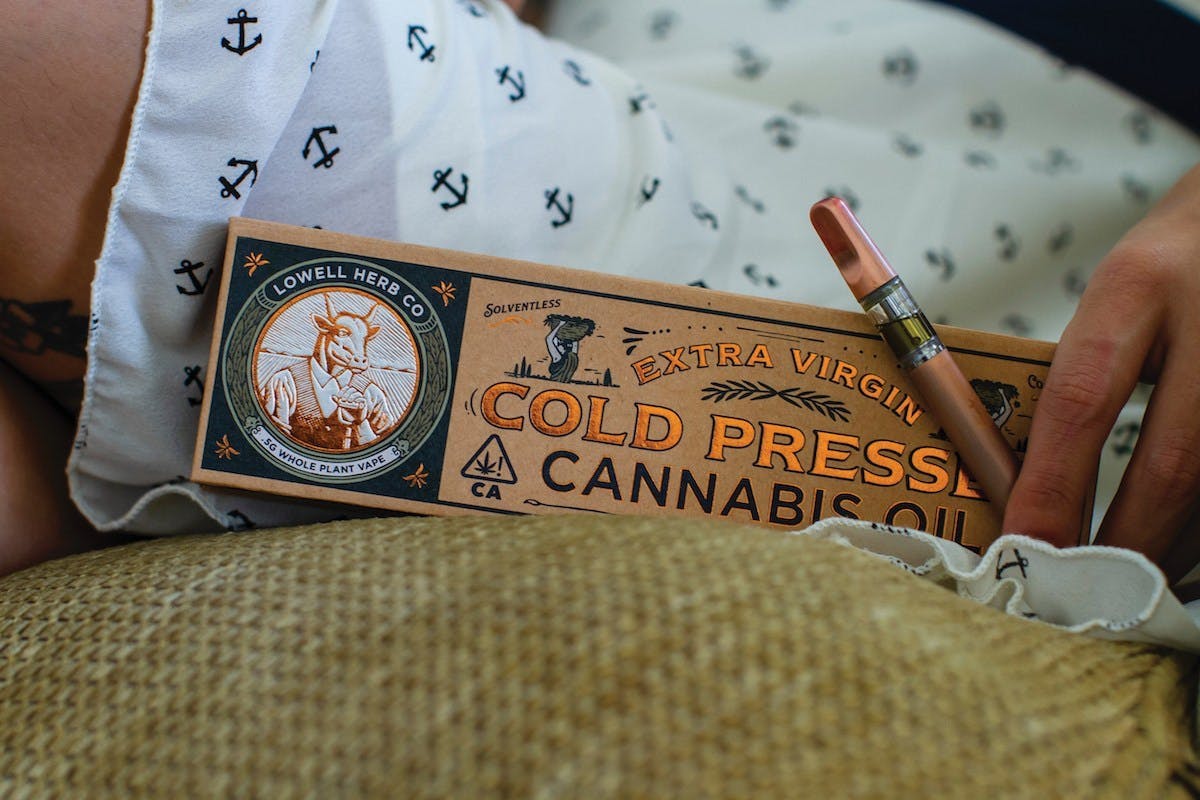 Earlier this season we announced the launch of our cold-pressed cannabis oil vape pen hitting dispensaries across California. It took Lowell Herb Co. two years to develop a live rosin vape that met our expectations for quality cannabis oil while still remaining in alignment with our company's ethos for sustainability. It was important to us that our first cannabis concentrate not only be potent, but also completely safe for consumption. 
We can say with total confidence that we've succeeded in creating the healthiest vape product possible, suitable for consumers of all levels, and made from 100% organically grown Californian cannabis. 
Lowell will always be a flower company at heart, but we're excited to expand into new markets moving forward. As experienced cannabis consumers, it was crucial for us to curate a vape experience as close to smoking, as possible. But before we get into the details about our virgin cannabis oil, you might be asking yourself; "What the heck is cold-pressed cannabis oil, and how is it different from other cannabis distillates on the market?". In order to answer these questions we must first start by defining cannabis concentrates and other extracts.
The Difference Between Concentrates and Extracts.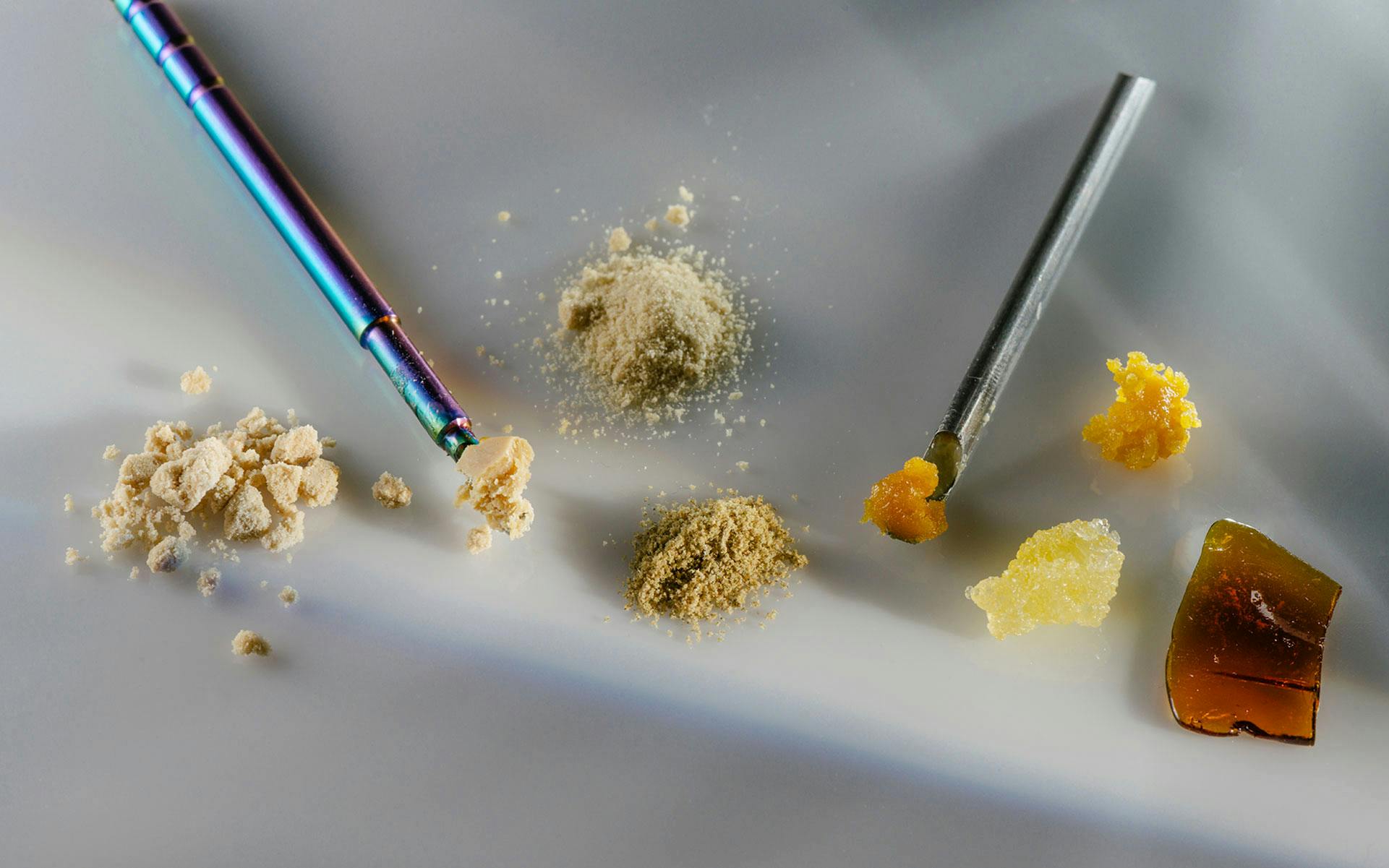 Photo by Grant Hindsley for Leafly
Cannabis concentrates and extracts are common industry terms frequently used interchangeably. Both are exactly what they sound like, a concentrated form of the cannabis plant usually containing very high amounts of THC and other cannabinoids, like CBD. However, the two are more like sisters than they are twins, and it's important to keep that in mind moving forward. Technically, all cannabis extracts are concentrates but not all concentrates are extracts. The main differentiation between extracts and concentrates is how the oily, cannabinoid-rich trichomes are collected from the plant. This action is referred to as the "extraction process", basically where science meets plant medicine. 
Cannabis concentrates are made through solventless, mechanical processes and come in a variety of textures such as kief, rosin and hash. Solventless concentrates are healthier and more pure than 'solvent-free' extracts. 
Cannabis extracts are a specific type of cannabis concentrate that uses a chemical solvent like butane, ethanol or propane to strip the flower's cannabinoids and terpenes, while also removing any undesirable compounds found in the plant. Lastly, the chemical solvent is flushed out or purged, making the extract safe for human consumption. With the recent developments concerning contaminated vape products in California and across the nation, we must strongly advise consumers to only purchase vape products, and other cannabis oils from fully licensed dispensaries. The majority of the devastating vape cases reported were linked back to items bought through unregulated mediums (i.e. black market). If the solvent or cutting agents aren't fully purged, the heating and inhaling of the oil can lead to serious health conditions. Because most THC distillates go through a volatile extraction process, a lot of them are also lacking the original cannabinoid profile of the plant. 
Why Choose Concentrates Over Flower?
Originally crafted for medicinal cannabis users that required higher doses of THC, concentrates deliver a more powerful sensation than the effects obtained from smoking the dried herb. This futuristic segment of the market is already remarkably vast and spans further than just your typical cannabis wax. Cannabis concentrates and extracts come in a variety of forms such as sauce, shatter, wax, jelly, live resin, hash oils, tinctures, and more. Practically odorless, cannabis concentrates deliver an immediate yet discreet onset effect. Concentrate consumers describe a better, more refined taste when dabbing, and praise the overall experience as a lot less harsh on their lungs than smoking pre-rolls. 
What is Cold-Pressed Cannabis Oil?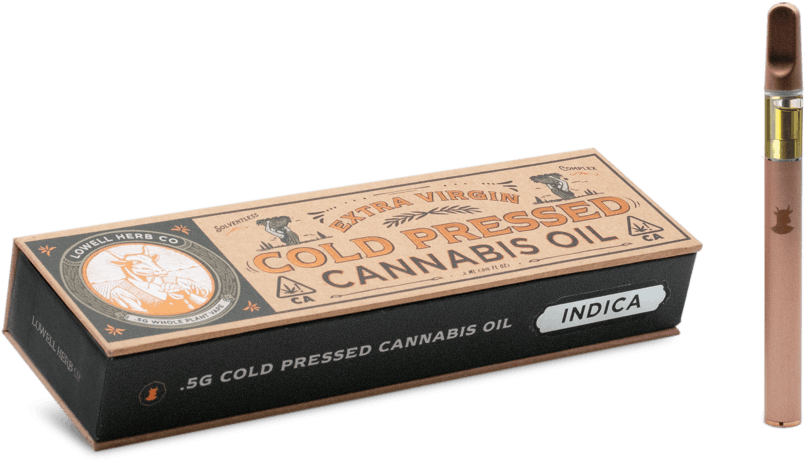 Cold-pressed cannabis oil is a type of cannabis concentrate that's derived by cryogenically freezing the whole raw plant, sifting the frozen plant matter through ice water, and then applying extreme pressure to its crystallized remains. Since we're freezing the whole plant immediately after it was cut, Lowell is able to retain all of the natural healing properties from this 'live' organism. Why does this detail matter? Because in order to create a naturally full-spectrum oil, it's important to use the whole cannabis plant without compromising its original profile. Why would someone choose a full-spectrum oil over a THC distillate, and other isolated cannabinoid products? Because a wise shopper knows that full-spectrum products typically retain the most active cannabinoids and terpenes from the plant. By using a whole plant method to produce our cannabis oil, we're able to develop a live rosin vape that's infinitely better, extremely therapeutic, and provides a more effective outcome for the consumer. This powerful reaction that occurs from the relationship between cannabinoids, terpenes, and the human body is also known as the "Entourage Effect". Unlike other vapes on the market, our virgin cannabis oil is completely void of any carcinogenic additives; meaning we at Lowell never use any synthetically derived terpenes, or introduce cutting agents into our product. This is a true solventless concentrate. You can be rest assured that the taste you get when smoking our vape comes from all-natural cannabis terpenes directly extracted from our organically grown flowers.
In today's world, most mindful individuals understand the relationship between feeling healthy and eating healthy. They know that nutrition plays a huge role in how they feel, their energy levels and overall mood. They know not to consume food with a bunch of synthetic additives or processed sugar, but they don't necessarily hold their cannabis to the same standards. Think of our cold-pressed cannabis oil as the equivalent to a healthy, all-natural, fresh-squeezed juice from your local juicery and competing THC distillates as the overly processed boxed juice found in most supermarkets.
Lowell's Secret Ingredient - Finding The Perfect Strain.
We knew it would take a special strain to launch our solventless cold-pressed cannabis oil. One that would supply the perfect balance between body and mind. A strain that could be consumed at any time, day or night. Lowell's diligent strain hunters rigorously scoured our network of family run farms in California until one day they found the ideal hybrid. Welcome Emerald Cup's 2018 1st place winner for best strain 'Pink Lemonade'. 
Our delicious live rosin Pink Lemonade helps to restore balance between the mind and body, alleviate stress, and lessen headaches with each flavorful puff. Great for creative work, enhancing mental health, going for a jog, or simply transforming ordinary chores into extraordinary activities. This unique strain provides a slightly stimulating, euphoric, and pleasurable high with subtle notes of citrus and tart. This Pink Lemonade disposable vape is able to calm the body without completely slowing down the consumer's mind. Lowell's solventless vape is the cart for the advanced cannabis smoker. Experience the healthy benefits of vaping without the trash of distillate. Experience the unmatched quality of Lowell's live rosin cannabis oil. 
Follow Bianca Blanche on Instagram @thestonedjournalist